HighFil Low Energy Pump Price £1825

This superb low energy variable flow pump is the HighFil HFP-75 , designed and manufactured in Germany it has a maximum output of 16,500 GPH . With variable speed from 500 revs to 3000 revs and superb reliability and low running costs. Very quiet running with a wall mounted main control unit making adjustment of speed very easy.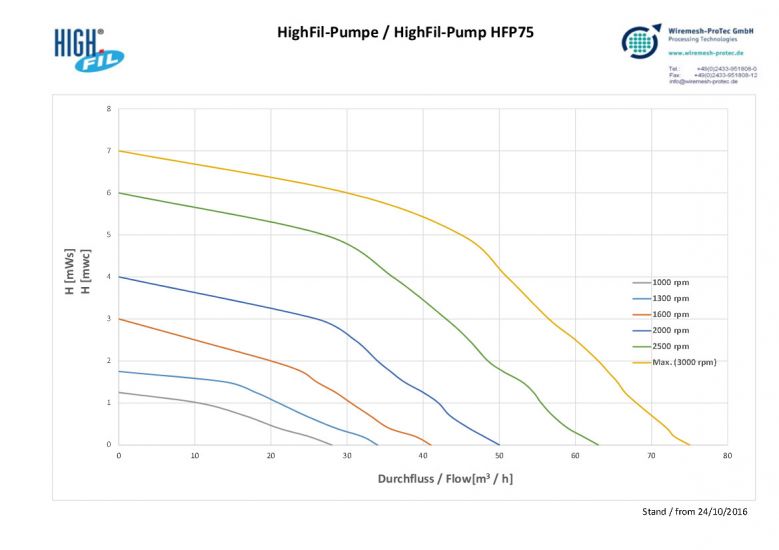 More information from the Manufacturer
HighFil® high-performance energy-saving pump HFP75
Fields of application
The controllable "HighFil" high-performance energy-saving pump HFP75 was developed by our experienced engineers and technicians from 2014 to 2015 and is accepted in accordance with Machinery Directive 2006/42/E6.
The pump is perfectly suitable for larger ponds (≥ 30,000 litres) and filtration systems, such as belt filter plants, nonwoven filters and drum filters. It pumps up to 75,000 litres of water per hour. With the external controller, the output can be adjusted individually to the respective filtration system and the existing piping. As a result, you are able to decide yourself how much energy the pump consumes.
Advantages of the HighFil high-performance energy-saving pump HFP75
Manufactured in Germany
Coarse contaminant transport up to 6mm
High hydraulic level of efficiency through optimised flow processes within the pump head
Most low-energy drive motor in accordance with class I4
External, intelligent, electronic controller, with 10m cable
Optimal Fa. Burgmann shaft seal, minimal wear by using durable and high-grade materials
Pump head with impeller made of high-grade cast stainless steel 1.4541
Sturdy base for safe installation

If you would like more information on the above please contact me at kwc-jpn@hotmail.co.uk , Face Book , Messenger , WhatsApp or you can call 07712871692
Thanks Drew